Off Road – ATV Accident Injury
All ATV and Off-Road Vehicles carry some degree of danger with their use. Many people are severely injured and even killed every year necessitating the retention of an ATV and Off-Road Vehicle Accident Attorney. People are much less cautious when they go "Off-Road," and wear less protective gear like helmets and leather jackets and pants. In addition, alcohol plays a key role in many Off-Road Vehicle accidents as riders mistakenly feel that they can drink and ride because they are not on a public road.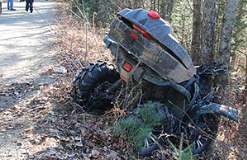 Were you severely injured in an ATV rollover or other accident in an off-road vehicle? There is a good chance that the design of the vehicle played a large part in causing your accident and injuries.
ATV and Off-Road Vehicle Accident Attorney
If you have been injured while riding an ATV or an Off-Road Vehicle, contact the experienced Attorneys in our Law Office for a free legal case consultation. Chances are you will have significant medical bills and lost time from work while recovering from your painful injuries. At our Law Office, we fight to get our clients the highest possible financial compensation for any injuries sustained in an ATV or Off-Road Vehicle Accidents. You pay nothing to retain the Best Injury Attorneys until we win your case. Our office has significant experience in successfully prosecuting the claims of our clients injured in an ATV and Off-Road Vehicle Accident and we will get maximum monetary compensation for any injuries sustained.
About ATV and Off-Road Vehicle Accidents
Although the circumstances are based upon the individuality and uniqueness of each case, there is a strong chance that you have legal grounds to file a significant product liability claim against the negligent manufacturer. Unfortunately, these types of accident litigations have been fairly common in recent years due to poorly designed ATVs that have the propensity to roll or tip over even when operated in a reasonable and safe way. In addition to their likelihood of rolling over, these vehicles lack proper safety equipment to reasonably protect the occupants' arms and legs from being contained on the vehicle. As a result, significant personal injuries can be incurred by the operators of the vehicles including broken bones, crush injuries and other catastrophic physical damages as a result of being crushed underneath the vehicle. In addition, there are also other situations where another ATV driver may have caused the collision that injured you or a loved one. In these matters, the other driver may be held accountable.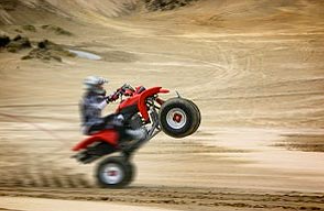 To properly find fault in your ATV accident, our firm will thoroughly investigate the matter. We will also use our resources to decide the full and complete value of your claim, taking into account all medical expenses, lost wages and even non-economic damages such as emotional trauma and pain and suffering.
For a free consultation, contact an ATV accident lawyer in our firm today. You pay nothing unless we win your ATV or Off-Road Vehicle Accident case!